July 02 – 19, 2021
Photo-based contemporary pieces from the Arcana Collection
Exhibiting artists:
Eszter Bíró, Marianne Csáky, Sári Ember, Ágnes Eperjesi , Luca Gőbölyös, Sally Anne Kelly, Eva Koťátková, Éva Köves, Ágnes Éva, Judit Marjai, Molnár, Lenke Szilágyi, Jana Želibska
On the vernissage, Gábor Ébli aesthete talks with Judit Major, art collector.
The recording of the opening is boradcast live and is going to remain available on FUGA YouTube channel.
https://www.youtube.com/user/fugabudapest/videos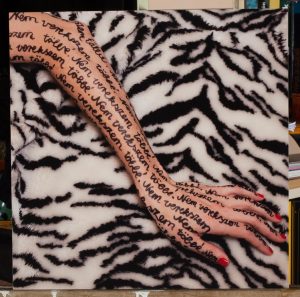 The Arcana Collection of an intellectual coupled debuted in 2019 with its exhibition that took place in the Budapest Gallery with a representation of artists from classics, such as László Moholy-Nagy or Martin Munkácsi, to contemporaries, like Gábor Gerhes and Imre Drégely. In 2020, as part of the Budapest Photo Festival, the works of Lenke Szilágyi found in the collection were on display in MÉSZ – Association of Hungarian Architects. For both exhibitions bilingual catalogues were published.  The current third selection lays emphasis on artworks of female artists. To what extent and what female perspective do the playfully serious Family Tree of Sári Ember or Ágnes Eperjesi's lyrically structured Soft constructivism hide? Within the extendening international contribution to the collection Jana Želibská's work represents the conceptual, minimalist wave while the collage of Eva Koťátková shows the narrative symbolism.
Arcana Collection 2020 Catalogue: