opening 30 September 2022 , friday 6 p.m.
István MEDGYASZAY – Hungarian Modernist Architect
Vienna Ringturm Exhibition Centre in FUGA for the third time

Born in Budapest, architect István Medgyaszay (1877-1959) graduated from the Vienna Academy of Fine Arts – where he studied under Otto Wagner – in 1903.
After continuing his studies in Budapest and completing internships in Berlin and Paris, he went on to research Hungarian folk art in Székely Land in Transylvania. The insights he gained there laid the foundations for his formal language. In his writings, he emphasised the importance of unifying structure and decoration, and vernacular wood constructions define his architectural designs.
The theatres he designed in Veszprém and Sopron underline his guiding principle behind the use of reinforced concrete: the forces at work in the construction should be reflected in the architecture. His fascinating and unmistakeable architectural language can be found in buildings in Lviv, Chernivtsi, Vienna, Budapest as well as numerous other towns and cities that were then still part of Hungary. Alongside Ödön Lechner, he is regarded as the father of Hungarian Modernism.
Curator:
Adolph STILLER
Academic consultants:
Zoltán FEHÉRVÁRI, András HADIK, Emese KÚN, Ferenc POTZNER
exhibition staged in collaboration with the Budapest City Archives
The exhibition will be opened by Tamás DÉVÉNYI, architect.
30 September 2022 – 30 October 2022
FREE ADMISSION
Wednesday to Sunday, 2 p.m. to 7 p.m.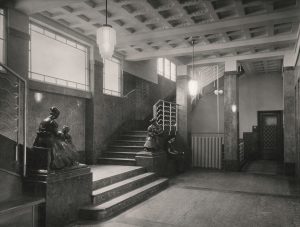 Wiener Städtische Versicherungsverein – sponsor of the exhibition